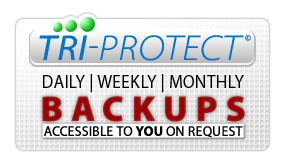 Tri-Protect provides maximum data protection and solidifies our commitment to delivering the best possible technology to our clients.
Tri-Protect not only delivers protection from hardware failure, but delivers a tangible service to clients, with the ability to go back in time and salvage lost or damaged data.

At Bright-Byte, your data is stored in 5 locations:
Your main account
Daily Backup. Accessible to you.
Weekly Backup. Accessible to you.
Second Weekly Backup. Located at a second data facility in Manhattan.
Monthly Backup. Accessible to you.
Accessing your backups is as easy as contacting our support staff. You can ask for access to all your backed up data, or ask for a specific file to be restored.
It is quite common these days for hosting providers to offer data backup via RAID (mirrored) arrays. We however don't believe mirrored drives are adequate in today's environment, with complex database driven web sites now standard. While mirrored hard drives may protect against a hard drive failure, they will not help should one of your databases become corrupted, as mirrored drives update simultaneously. Be sure to know what backup solution you are getting before choosing your hosting provider.

Below is a simple diagram which demonstrates the Tri-Protect system